Trusted Heat Pump Replacement Services
For reliable heat pump replacement services in Bristol, PA, you can trust the professionals at Christian Heating & Air Conditioning. As a long-time HVAC contractor in the area, we pride ourselves on delivering a high level of customer service to our residential clients to earn repeat business for all of their indoor comfort needs. Our experienced heating technicians are certified and customer-oriented to ensure your complete satisfaction on every visit.
We specialize in repairing, maintaining, and replacing all types of residential heating systems, including heat pumps and hybrid heating systems. Our HVAC technicians are knowledgeable about all kinds of heat pumps, including air-source, ground-source, and even geothermal heat pumps, which have recently increased in popularity in our service area thanks to tax credits and the long-term energy savings these systems provide. If you are in the market for a new heat pump, please call us at 1-215-488-5795 or request a free estimate and learn about your options.
Contact Us Today by filling out the form below, or calling us at 1-215-488-5795
"*" indicates required fields
Energy Efficient Heating & Cooling All Year
Heat pumps have a dual purpose as they keep your home warm in winter and cool it during the summer. These technologies eliminate the need for a combination HVAC system, although some customers still opt to include a furnace in a configuration known as hybrid heating. Christian can provide heat pump replacement and maintenance services for both air-source and ground-source heat pumps. You'll end up saving money in the long run as both are highly efficient indoor comfort technologies.
When To Replace Your Heat Pump
As a general rule, most heat pumps last about 15 years. Although yours may last longer, no heater lasts forever. Your heat pump will also start giving you telltale signs that it's time to invest in a new one. Higher utility bills are one indication, while frequent repairs are another, along with inferior air quality and cold spots inside your home. If you have any of these problems, contact us at 1-215-488-5795 now. Investing in heat pump replacement equipment will increase your energy efficiency.
Low Refrigerant
No Hot Air
No Cold Air
High Utility Bills
Broken Thermostat
Blown Motor
Broken Starter
Frozen Coils
Heat Pumps Require Annual Maintenance
Anything with moving parts is subject to wear and tear, and heat pumps are no exception. They'll eventually break down, especially if you don't take care of them through annual maintenance. Most manufacturers also require you to have cleaning and preventive maintenance on your heat pump so that the warranty will remain valid. Regular maintenance is essential for the efficiency of your heat pump as dirty and dusty parts, along with loose connections, will make it work harder to deliver heating and cooling. You'll also extend the life of your equipment if you get have your air-source or ground-source heat pump serviced annually.
When Christian's certified technicians travel to your home to service your heat pump, they'll perform multipoint inspections and tune up all moving parts. The value of annual maintenance lies in our ability to identify minor problems before they turn into big ones, thus saving you money. Consider opting for our yearly maintenance plan that can save you even more by giving you priority access to our services if problems do occur, in addition to a comprehensive inspection and cleaning. When you choose Christian for your heat pump replacement in Bristol, PA, you'll receive a free one-year maintenance plan. Many of our heat pump replacement systems also come with a 12-year warranty on parts and labor.
Heat Pump Systems We Service
Christian offers a range of heating options to keep you comfortable during cold weather. Our certified technicians can repair and service all varieties of heat pumps, including traditional air-source heat pumps, ground-source systems, and ductless heat pumps from a wide range of manufacturers. We stay abreast of the latest technology to ensure that you'll get the best possible heat pump replacement service.
Air Source Heat Pumps
Bristol, PA, homeowners have long favored air-source heat pumps because of their ease of operation and cost-effectiveness when you buy one and run them during the heating and cooling seasons. Air-source heat pumps work by absorbing outside air and transferring it to an indoor space. In the summer, they absorb indoor heat and transfer it outside while also acting as a dehumidifier.
Ground Source Heat Pumps
Ground-source heat pumps work by transferring energy from the ground into your home. They use geothermal technologies to serve your heating and cooling needs. Ground-source heat pumps are not as common as their air-source cousins because of their higher upfront costs to install the system, along with the ground space needed for the construction of a ground-source array.
Ductless Heat Pumps
Ductless heat pumps are also known as mini-split heat pumps. This technology is ideal for older homes that do not have ducts and small houses, along with home additions, outbuildings, or other spaces that have specific heating and cooling needs that must be run separately. Christian installs, services, and repairs all types of compact and high-efficiency mini-split systems in Bristol, PA.
Sometimes, no matter how well you maintain your heat pump, it will suddenly break down. Those mishaps always seem to occur at inconvenient times, too, like the middle of the night or on weekends. Our expert HVAC technicians will respond promptly to your emergency call to minimize your inconvenience and get your system up and running as soon as possible. Prompt emergency service can avoid the need for an immediate heat pump replacement and keep your system running efficiently. You can count on us for a fast and dependable fix for air-source, ground-source, and ductless heat pump systems.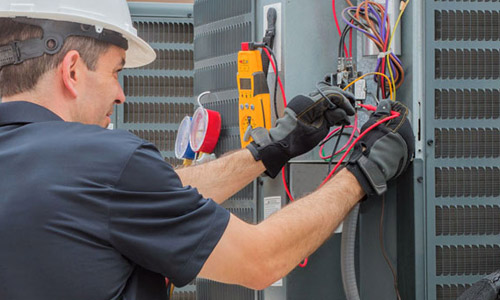 Choose Christian for Your Heat Pump Replacement in Bristol, PA
Whenever you need heat pump replacement services in Bristol, PA, learn what thousands of satisfied customers already know. Christian is your source for exceptional and trusted workmanship and outstanding customer service at fair prices. Contact us via our convenient online form or call us at 1-215-488-5795 to schedule your free consultation or heat pump repair or maintenance.