Trusted A/C Repair Company That's Always Here For You
At Christian Heating & Air Conditioning, we take great pride in the air conditioning services that we provide in Salford, PA. Since 1989, we've been the go-to experts for all air conditioning repair services. Why do homeowners put their trust in us? It's because of our friendly technicians and our expert knowledge on everything air conditioner related. It's also because we offer emergency air conditioning repair services 24/7/365 so whether you need help at 3 am, on the weekend or during a holiday you can experience peace of mind knowing we'll be there for you. Best of all we never charge any overtime fees!
No matter which make or model air conditioner you have, you can rest assured that our expert technicians can repair it. Some of the models that we repair include:
Trane
American Standard
Rheem
York
Mitsubishi
And Many More
When to Schedule an Air Conditioning Repair
One question that homeowners ask us a lot is, "When should I schedule air conditioning repair?" The best option is to have a professional inspect and tune-up your air conditioner every year. Try to have it inspected during the spring to ensure that it's ready for the summer season.
Unfortunately, it's impossible to predict exactly when an air conditioner will break down even when you get an annual inspection. At Christian, we know that air conditioning systems typically require repairs at the most inopportune time. That's why we offer emergency air conditioning repair services in Salford, PA. You can count on us to be there for your family when you need us most.
There are some warning signs that may indicate that you need to schedule A/C repair services. Here are some of the most common telltale signs that you'll need an air conditioning sooner rather than later:
No Cool Air
When your air conditioning system doesn't blow out cold air, a number of issues could be the cause. Typically, it's a sign that you're low on refrigerant, or there could be a problem with the compressor. On the other hand, the problem could be poor or restricted airflow. Thankfully, our HVAC technicians are trained to figure out the problem.
Frequent Cycling
On warm days, you will notice that your air conditioner turns on more frequently. However, it shouldn't cycle on and off continuously throughout the day. It also shouldn't cycle off before your house reaches the indoor temperature that you set on your thermostat. If it does, your unit needs a tune-up, or it may be time to replace it altogether.
Poor Airflow
Restricted airflow to your air conditioner prevents it from doing its job properly. Sometimes, the cause is nothing more than a dirty air filter, or furniture that is blocking the air return. Other times, it could be a sign of a bad motor preventing the unit from taking in enough air, which would require help from an air conditioning tech to fix.
Strange Noises
Strange noises coming from your air conditioning unit is never a good sign. In some cases, loose components can cause a banging or clicking sound. Other times, these sounds mean that the system is failing. Regardless of the cause, the HVAC technicians at Christian are standing by to inspect the noise and perform any necessary repairs.
Leaks
Leaks are often caused by a clogged drain line that prevents the A/C unit from draining condensation away from the air handler properly. However, it could be caused by evaporator coils freezing and unfreezing. It's also possible that a leak might have to do with the refrigerant. Regardless of the leak you experience, the pros at Christian can help.
Bad Odors
No one likes bad odors, especially when they come from the air conditioner. The smell could indicate microbial growth within your A/C system. Typically, bad odors can be dealt with by scheduling a professional cleaning. That said, it's important to clean your HVAC system quickly to keep it from blowing bacteria around your home.
Too Much Humidity
During the hot summer months, it's not uncommon for the inside of your home to feel a little sticky. However, your air conditioner should regulate the humidity level to prevent the sticky feeling from getting out of hand. If your system isn't able to keep the humidity at an acceptable level, it's probably time to schedule an air conditioning repair.
High Utility Bills
Having high utility bills is a sign that your air conditioning unit isn't efficient anymore. This issue might be easily fixed with air conditioning repair services from our pros. Typically, though, it's a sign that it's time to replace your current unit with a more energy-efficient HVAC system. Our technicians can provide recommendations on the best option for you.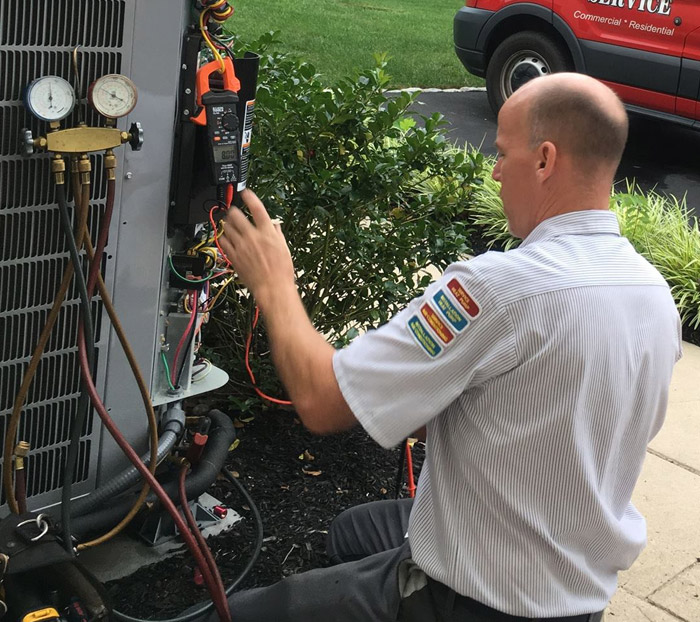 Why Isn't My Air Conditioner Working?
There are countless reasons why air conditioning systems stop working. That's why Christian's HVAC technicians are standing by to inspect your unit. We can help determine which of the following issues you're experiencing:
Low Refrigerant – If your air conditioning unit needs to be recharged with refrigerant (the chemical that cools the air within the system) it's very likely you've experienced a leak. This can cause the air blowing from your vents to not be cool.
Frozen Coil – Airflow restrictions caused by obstructed air vents or dirty filters can result in a frozen air conditioner coil. Frozen coils can also be the result of low refrigerant levels.
Bad Wiring – If your air conditioning system is often tripping the circuit breaker it's likely a faulty wiring problem. This creates a serious fire hazard and should be addressed by a professional.
Issue With the Outside Fan – Since the air conditioner's outside fan is responsible for driving the heat from your home to the outdoors if it is not working properly the entire system underperforms.
A/C Repair Services Christian Offers
Christian Heating & Air Conditioning offers all of the air conditioning repair services that homeowners in Salford, PA, could ever need. We can fix both common and uncommon problems that you may experience with your A/C.
From central air conditioners to ductless mini-split systems, our HVAC technicians can work on any type of system. We even work on homes that use heat pumps for cooling. Whether you need leak repairs or a refrigerant recharge, we can help keep you cool this summer.
If your refrigerant needs to be recharged, there's a high possibility that you have a leak. Some air conditioner repair companies just keep recharging it, but that ends up costing you a lot of money. We find and repair the leak so that you save money in the long run.
Don't Wait For a Breakdown
Many homeowners wait for their air conditioning system to break down before they call for help. The best offense to staying cool, though, is a good defense. That's why we encourage homeowners to sign up for our Free Advantage Plan. Our plan gives you access to regular maintenance to ensure that your A/C unit is always running efficiently. We can keep your HVAC system clean and reduce the chances of you needing an air conditioning repair. Some of the services that our maintenance plan offers include: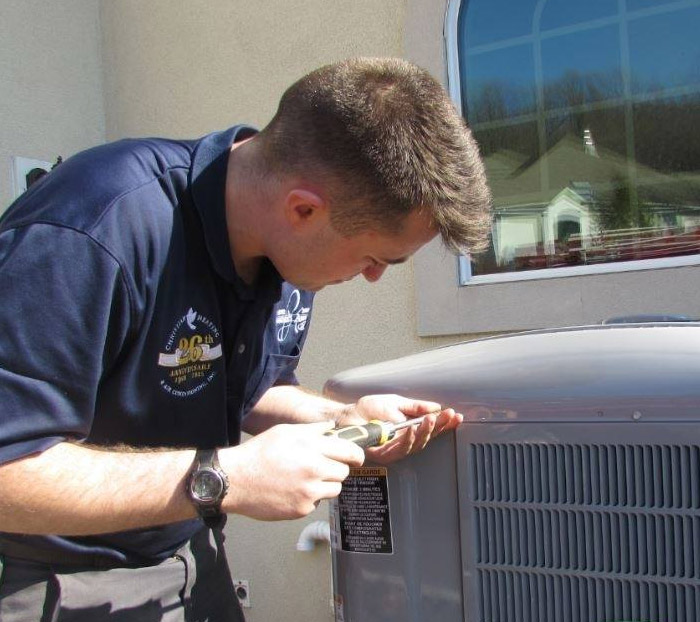 Cleaning drain traps, condensate pans, condenser coils and evaporator coils
Measuring the amperage of the motors and compressor
Measuring the strength of the capacitors and verifying the correct breaker size
Checking all electrical components and all low and high voltage wiring
Calibrating the thermostat and replacing the air filter
Checking for refrigerant leaks and monitoring refrigeration pressures
Inspecting the blower wheel and testing all safety controls on the unit
Measuring the airflow and static pressure
Contact us today for a complete breakdown of all of the great services that our Free Advantage Plan offers to homeowners just like yourself.
Reach Out Today for Emergency Air Conditioning Repairs in Salford, PA
Don't trust your air conditioning repair to just any company. Put your trust in a company that has been proudly serving Salford, PA, and the surrounding area since 1989. From general maintenance to complex repair jobs, Christian Heating & Air Conditioning offers all of the air conditioning repair services that you could ever need. Best of all, we can work on nearly any make and model. With Christian you're just a call or click away from getting help for your emergency air conditioning repairs.