Energy Efficient System with Minimum Expenses
Christian Heating & Air Conditioning has been installing, maintaining, and repairing heat pumps since 1989, and over more than three decades, we have seen many homeowners make the switch as the technologies have improved. Among the latest trends in heat pumps is geothermal heating and cooling, which uses the earth as the medium through which heat energy is transferred. The earth is a great source of heat energy and also has a great capacity for it, and that avoids the limitations associated with air-sourced heat pumps, such as becoming less efficient in very cold temperatures. The U.S. Environmental Protection Agency estimates that homeowners can save 30-50% on cooling and 40-70% on heating by making the switch. Homeowners can also offset some of the investment through tax credits and rebates, and the team at Christian can help you explore all of those potential savings.
How Does a Geothermal System Work?
A heat pump is similar to an air conditioner in that it transfers heat energy, but it can do this in both directions and thus cool your home in summer and warm it in winter. Geothermal heating and cooling systems transfer that heat energy to and from the ground or a large body of water as opposed to the ambient air, which is still the prevalent approach. Ground installations are far more prevalent since most homeowners do not have a large enough natural body of water on their property.
A geothermal heating and cooling system involve what is called a closed loop. The loop is piping that is buried in the ground or submerged in the body of water. It carries a fluid, such as water or a refrigerant, and that is the medium used to transfer heat energy to and from the earth or water as needed. The fluid used is never toxic, and the loop can be positioned horizontally or vertically, which allows your installers to orient it based on the needs of your landscape. A low-wattage pump is used to circulate the fluid through the loop, which is generally installed several feet below the surface.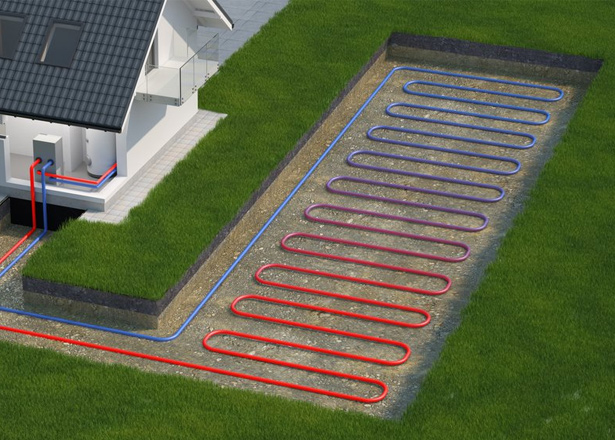 While air temperature can vary greatly depending on the season, ground temperatures are very consistent. The earth also has a great capacity for heat energy. In our region, air-sourced heat pumps are often paired with auxiliary furnaces to deal with the coldest temperatures, but such hybrid setups are not needed with a geothermal heat pump.
Geothermal Heating and Cooling System Installation
When determining the ideal configuration for your geothermal heating and cooling system, there are several factors to consider, such as the size and specifics of your home, your household usage, and your property. These all factor into the size of the system you need and the size and layout of the loop field. It is very important to get those decisions right in order to achieve maximum efficiency, and the team at Christian has considerable experience planning and carrying out geothermal heat pump installations.
Comfortable Temperatures that Lower Your Carbon Footprint
Both the EPA and U.S. Department of Energy recommend geothermal heating and cooling systems for both residential and commercial applications because they are the most environmentally clean, energy efficient, and cost-effective solutions currently available. A geothermal system can be tailored to your unique home and property and will provide you with a comfortable temperature throughout the year. It is also notable that modern geothermal heat pumps are several times more efficient than air conditioners and air-sourced heat pumps and five times more so than the most efficient furnaces available.
Geothermal Heat Pump Annual Maintenance
Another factor that makes geothermal heating and cooling systems so cost effective is the life span. The heat pump itself has an expected life span of at least 20 years, and the underground infrastructure can last upward of 50 years. In order to achieve these milestones, routine maintenance is required. At Christian, we offer a maintenance plan and include one free year of membership with all installations. As a member, we'll service your system twice a year: once before summer and again before winter. During that appointment, we'll conduct a multipoint inspection, clean your system, and perform a tune-up.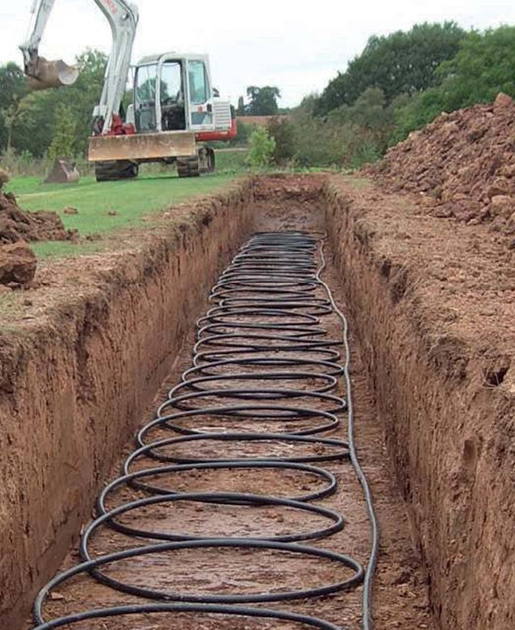 Contact Us Today by filling out the form below, or calling us at 1-215-488-5795
"*" indicates required fields
Choose Christian for Your Heat Pump Water Heater Needs
Christian Heating and Air Conditioning is here to meet all of your water heater needs throughout the Greater Philadelphia area. Whether you need to install a new water heater, want to convert to a different technology, or require repair or maintenance, count on Christian. Call us at 1-215-488-5795 or contact us online with any questions that you may have to schedule an appointment.