Reliable Plumbers Just a Call Away
Our plumbers are well-versed in the repair and installation of hot water heaters, faucets, fixtures, water lines, gas lines, sump pumps, and more. Christian's plumbers can also replace sewage lines and perform a variety of other plumbing repairs and installation services. Whether you have a leak or need to hook up a new appliance to water or gas, Christian is here to help.
Faucets & Fixtures
Your plumbing fixtures and faucets are often a source of leaks. These leaks cost you money and can cause potential water damage. Whether you need a kitchen or bath faucet repaired or replaced, call on the expert plumbers at Christian for fast service.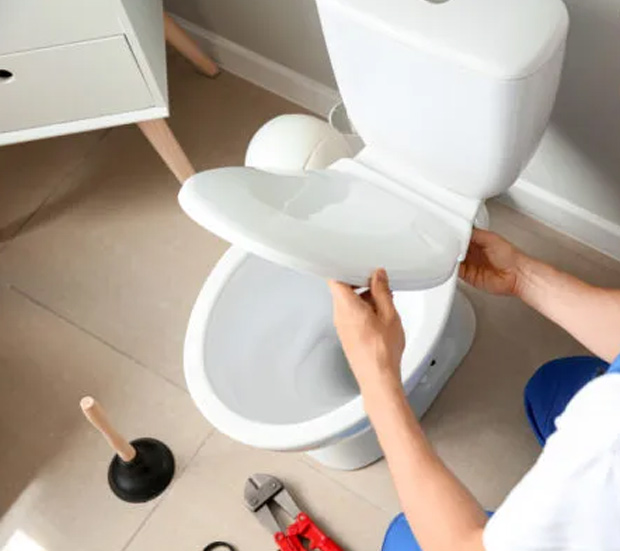 Toilet Repair
Toilets can develop a number of issues that call for quick repair or replacement. Clogs, leaks, water that never stops running, and odd noises are a few of them. While regular wear and tear can cause toilet components to degrade, using particular cleaning chemicals too frequently might have negative effects.
Garbage Disposals
A simple reset, which you can perform on your own, will sometimes fix your garbage disposal. Other times, a skilled plumber's eye is needed to diagnose garbage disposal problems. One of the plumbing services we provide is garbage disposal repair and replacement.
Appliance Hookup
Christian can help you install your new washer, dryer, oven, dishwasher, refrigerator, or other appliances that require water or gas line hookup. Don't risk injury or damage to your home and trust the experts at Christian to finalize your appliance installation.
Gas Lines
Many people don't realize that gas lines are actually part of plumbing services. Whether you are repairing or installing lines to appliances or your HVAC system, we have the knowledge and expertise to keep your home safe and comfortable.
Water Lines
The walls and floors of your home are filled with an intricate system of water pipes. When a leak or other issue occurs it/s important to locate and repair the issue immediately. We can also help you run new water lines to unserved areas of your home.
Sump Pumps
If your basement frequently floods, a sump pump may be used to divert the water away from your home. Even little flooding might cause significant damage to your basement and foundation. To keep your basement dry, Christian can install or service your sump pump.
Water Heaters
Living without a reliable water heater is stressful. Water heaters sometimes don't provide hot enough water, but they also can leak or have odd odors. To ensure that you have hot water throughout your house, we can repair or replace your water heater.
Drain Clearing
Numerous problems might arise when they are blocked and cannot flow freely. An expert plumber can quickly identify and clear any issues you may be having with your drains or sewage line to have your wastewater running smoothly once more.
Choose Christian for Your Plumbing Needs
Our skilled plumbers at Christian are prepared to take care of any of your plumbing service needs. Our plumbing and water heater services are fast, dependable, and just a click or call away. Contact us today to request plumbing help or to get a quote on fixtures and other plumbing system replacements.