Why Isn't My AC Working?
Nothing is worse than a broken air conditioner when the temperatures rise. The last thing you need is to be waiting days or even weeks for an AC repair company to fix your unit. Contact Christian Heating and Air Conditioning today for fast and friendly service. Our professionals will diagnose the issue and provide you with a repair estimate. We will fix any issues on the spot if we can. With Christian Heating and Air Conditioning, your air conditioner will start blowing ice-cold air in no time.
Common Reasons for AC Repair
Faulty Wiring
Shoddy, haphazard, or uncertified AC wiring is risky and a possible fire hazard. Bad wiring can prevent the system from getting power or can trip the circuit breaker.
Low Refrigerant
Refrigerant is the chemical that cools the air within your air conditioning system. Reduced levels of refrigerant could imply a leak or problem with the refrigerant system. If your air conditioning system needs to be recharged with refrigerant, 90% of the time that suggests there is a leak. All refrigerant leaks should be located and repaired. To read about the phase out of R-22 refrigerant in the United States, we highly recommend you to visit the U.S. EPA website.
Outside Fan Is Not working
The outside fan is responsible for driving the heat from your home outside. If the fan on the outside unit doesn't perform correctly, proper heat transfer cannot take place and the air conditioning compressor may overheat and trip the safety overload. Worse yet, it may cause internal damage to the compressor.
Outside Unit Not Functional
This usually indicates a lack of power, contactor problems or even a faulty thermostat.
The Coil Is Frozen
A frozen coil often indicates an issue with the airflow, such as restrictions caused by filthy air filters or obstructed return air ductwork. Frozen indoor coils could also be the result of low refrigerant.
The best way for a homeowner to prevent these problems is by participating in a preventive maintenance program, like our Advantage Plan. Low refrigerant, bad wiring, and many other problems can be discovered during routine maintenance. For all these common issues, a professionally qualified, NATE-certified technician can promptly analyze your air conditioner and implement the necessary AC repair. Contact us today for an evaluation!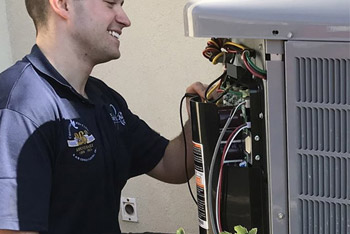 Priority Service
Day, night, weekends, and holidays. We have trained technicians available that will be able to address any repair needs within 24 hours.
Help Lower Operating Costs
When your heating or cooling system is properly maintained, you can expect that your utility bills can be lower than your old, outdated equipment.
Assurance Your System is at Peak Efficiency
Know that you are getting the most value from the money you've invested.