Reliable Standard Tank Water Heater Service
The experts at Christian have offered professional hot water heater replacement services to homeowners throughout Philadelphia, PA and the surrounding suburbs since 1989. Our company not only installs water heaters but services and repairs them as well. We all tend to take hot water for granted when it is available, but when it is not, it immediately becomes a major problem that seriously affects your quality of life. Christian has earned its place as a trusted name in this region because we are there when our clients need us. Should your water heater falter or fail, we will work hard to fix it as soon as possible even if that means working outside of our standard business hours. If you need assistance with your water heater, do not hesitate to call us today at 1-215-488-5795 for a free quote!
When Should I Replace My Tank Water Heater?
You can expect a hot water heater to last about a decade if properly maintained. Water heaters can last even longer, but hot water heater replacement services are still typically recommended at about the 10-year mark regardless. Beyond this point, a water heater no longer runs at peak efficiency. That means that it is costing your more each month. A new water heater will cost more up front, but it will actually save you money over time.
The other issue with older water heaters is that they are a ticking bomb that can eventually leak and could cause serious damage. Christian advises annual inspections of your water heater to avoid such problems. If you notice odd noises or issues with your hot water supply, you should call us and schedule service right away.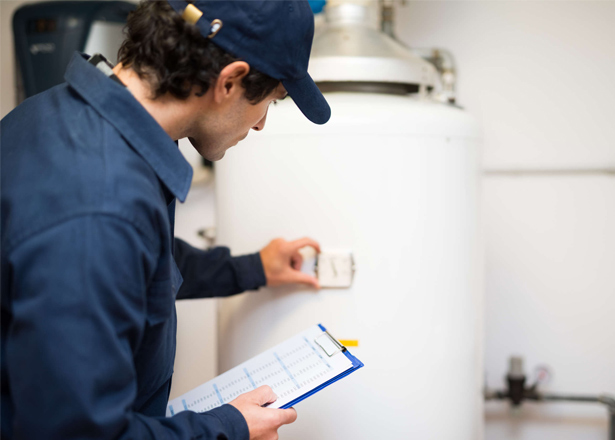 Gas Water Heaters
Gas water heaters use a burner to maintain the temperature of stored water, and that burner runs on either natural gas or propane. These units tend to cost less than electric units up front and over the long term, but toxic gases are a byproduct and must be exhausted.
Electric Water Heaters
Water heaters that run on electricity have a heated coil as opposed to a burner and thus do not create toxic gases as a byproduct. Electric water heaters do not replenish their hot water supply as fast as gas water heaters do, but they do allow for larger storage tanks.
Get Help with Your Tank Water Heater
If you are unsure whether it is the right time for a hot water heater replacement, Christian can help. We can send a water heater expert to your home to inspect your system and provide a professional and honest recommendation. If you choose to move ahead with installing a replacement tank, we will work within your budget and help you choose the ideal model for your needs. We will then install that new system fast and with precision. Call us today at 1-215-488-5795 with questions or to schedule an in-home consultation.
Why the Right Size Water Heater is Important
Water heaters must be sized based on the needs of a household, for example a family of four will use more hot water than a couple. You need to factor in all of your appliances and water needs such as washing machines, dishwashers and so forth. A water heater that is too small will just lead to frustration and inconvenience, and a water heater that is too large will just lead to you spending money unnecessarily. Our hot water heater replacement experts have a lot of experience helping homeowners choose the perfect size for them.
Reasons to Install a New Water Heater
10+ Years Old
Cold Water
Leaking Tank
Odd Sounds
Rusty Water
Cloudy Water
Hot Water Heater Repair Services
Christian also repairs water heaters when a hot water heater replacement is not the best option. If you are currently experiencing an issue, we can inspect the equipment, diagnose the problem, and provide you with a professional assessment. If your system is less than 10 years old, fixing it often is the right choice. When we carry out a repair, you can count on that workmanship for years to come.
The best way to avoid repairs and premature hot water heater replacement is annual maintenance. Christian can provide you with this service as needed, but we also offer maintenance plans that help you save money and ensure that your water heater gets serviced on schedule. Maintenance includes a multipoint inspection, thorough cleaning, and correction of any wear and tear. Should you need a repair while covered by our plan, we will schedule a priority appointment and give you a discount on that service.
Other Types Of Hot Water Heaters We Service
In additional to classic tank water heaters, the experts at Christian specialize in servicing tankless water heater systems and heat pump water heaters, including standalone units and those integrated into the home heating and cooling system. Our expertise encompasses units that run on electricity, natural gas, and propane but also solar and geothermal energy. If you hire us for you hot water heater replacement, we can upgrade you to a similar but more modern technology, or we can convert you to a system that saves you money and better meets your needs.
Tankless water heaters are an increasingly popular option throughout Philadelphia because they provide you with a practically endless supply of hot water. On-demand systems do have to be perfectly sized for a home, but when they are expertly sized and installed, they can have a lifespan of 20 years or more.
Heat pump water heaters use a heat pump to heat water, and that makes them highly efficient. Standalone models are available, but many Philadelphia homeowners opt for a system that heats and cools their homes as well. Investing in such a system can be recouped in a very short period.
Contact Us Today by filling out the form below, or calling us at 1-215-488-5795
"*" indicates required fields
Trust Christian for Hot Water Heater Repair & Installation Services
Many homeowners throughout Philadelphia and the surrounding areas trust Christian Heating & Cooling for hot water heater replacement and repair services. We welcome the opportunity to make you our next long-time customer. If you need service, are considering hot water heater replacement, or just have questions, do not hesitate to call us at 1-215-488-5795 or contact us online to request an estimate.