Incredible Efficiency & Temperature Control
Most standard air conditioners work overtime when extreme temperatures hit. If you have a variable speed inverter AC system, however, there is very little wasted energy to keep you cool. Inverter air conditioners operate with less variation in their output, delivering more consistent temperatures and lasting indoor comfort. Contact us today for a free estimate on a new Daikin Fit inverter air conditioning system from the HVAC experts at Christian. We offer a 12 year parts and labor warranty for select HVAC replacement systems.
Experience the Advantages of Variable Speed Cooling
When you hear your air conditioner turn on, you welcome the impending blast of cool air. The only issue is that once your thermostat turns it off, the indoor temperature begins to rise again. Thankfully there is a new type of air conditioner that won't fluctuate and end up costing you more on your energy bills.
The inverter AC system is equipped with a variable speed compressor that actively manages the speed of the motor that handles your AC unit's cooling capabilities. This balanced operation minimizes wasted energy that standard cooling systems expend when they have to "fire up" the motor to begin a cycle. Installing a Daikin Fit inverter cooling system will help you save energy while providing more uniform indoor temperatures.
What is Inverter Air Conditioning?
Inverter, variable capacity, or variable speed air conditioners regulate the frequency of electricity that powers the compressor motor. The inverter AC system controls the output of your HVAC system by raising or lowering the current to your compressor in small increments. By running your air conditioner consistently but at lower power, your system will be more energy-efficient. With constantly fluctuating temperatures in the Philadelphia area, an inverter AC system can better manage your indoor comfort.
Benefits of an Inverter AC System
Consistent Temperature
Lower Energy Costs
Quiet Operation
Durable and Efficient
Lasting Indoor Comfort
Inverter Air Conditioning Systems vs Conventional Air Conditioners
Operational efficiency is the primary difference between conventional and inverter air conditioning systems. The inverter's ability to manage the electric current that your air conditioner uses on-demand is what gives it the edge over a conventional air conditioner. Conventional single-stage compressors will turn on or off when the target temperature is reached. They are either running at 100% or not at all. There are also conventional AC systems that use two-stage compressors that run at lower power most of the time to keep more consistent temperatures but operate at full capacity when needed.
Contact Us Today by filling out the form below, or calling us at 1-215-488-5795
"*" indicates required fields
Comparing Air Conditioner Compressor Types
All air conditioners rely on a compressor to regulate the flow of refrigerant through the system. There are three common compressor types that are found in most residential AC systems. Conventional air conditioners use either a single-stage or two-stage compressor. When your thermostat cycles on, each compressor uses a different amount of energy to generate the necessary cold air to match your comfort settings. Inverter-driven AC compressors run low and slow, requiring less energy consumption and providing more consistent temperatures.
Single-Stage AC Compressors
Having shorter but more frequent cycles, single-state air conditioners operate at either 0% or 100% capacity. You will notice temperature swings. When the system is off, the indoor air will heat up until the system turns backs on again. It is the least efficient way to cool over time because the system is either on or off. The upfront cost of a single-stage central air system is lower because of its simplified operation.
Two-Stage AC Compressors
Cycling longer than single-stage systems but still frequent, two-stage air conditioner systems operate at either 65% capacity (stage one) or 100% capacity (stage two). You will notice occasional indoor temperature swings, although not as extreme as a single-stage system. Two-stage systems operate at lower power most of the time to keep more consistent temperatures, and only use the top end in periods of high demand.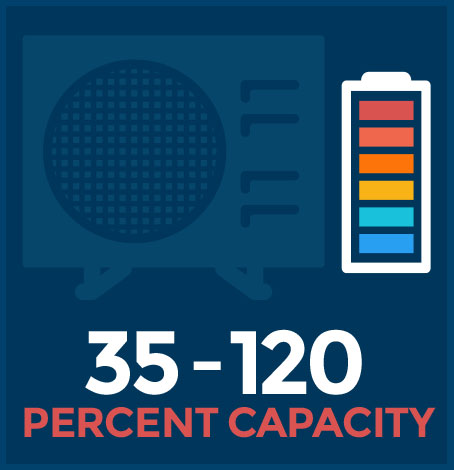 Inverter AC Compressors
Long and slow cycles are the key to energy efficiency. Inverter air conditioners actively regulate the power to the compressor so they can operate anywhere from 35% capacity to even 120% capacity. Because the output varies only slightly during operation, consistent cooling power with virtually no temperature changes are the result. Your energy consumption will decrease because the system is not wasting energy to keep you cool.
Christian Can Install Reverse Cycle AC Systems
Commonly referred to as a heat pump, a reverse cycle system can cool and heat your home or business. An inverter-driven reverse cycle HVAC system is an all-encompassing solution to your indoor comfort. By extracting heat energy from inside in the summer and outside in the winter, these systems provide versatile heating and cooling capabilities. These systems operate at peak energy-efficient, especially in areas like the Greater Philadelphia Area where the outdoor temperature can change considerably day after day. While reverse cycle systems cost a bit more upfront because they combine two systems, you will reap the rewards when it comes to saving money and energy over time.
Daikin Fit HVAC Comfort System
Christian has chosen to install the product line of Daikin HVAC comfort systems, including the Daikin Fit system, due to their outstanding benefits. Daikin has positioned itself as one of the most popular air conditioner brands in the world with its history of producing durable and efficient cooling systems. We have worked with just about every air conditioning brand and our HVAC technicians rely on Daikin when it comes to the installation of new energy-efficient air conditioners.
The Daikin Fit inverter air conditioning system provides improved humidity management and precise temperature control in a space-saving unit. Our team is standing by to answer any questions you may have about how inverter technology and the Daikin Fit could help you lower your energy bills and enjoy your indoor comfort.
How to Choose the Right Air Conditioning System
There are many factors to consider when deciding on the right air conditioner for your home or business. The square footage of the rooms that you wish to cool is the most important measurement to calculate. When you choose to work with Christian, one of our trained HVAC technicians will perform an audit of your property. They will take note of where your doors and windows are, and whether your property is adequately insulated. If you have any questions about selecting a new air conditioning system, we're here to help.
To help ensure that your system won't underperform in times of extreme need, you will almost always want to choose a single or two-stage air conditioner with slightly higher capacity than you may think need. The best part about inverter AC systems like the Daikin Fit system is that they don't operate at peak output level unless it is necessary. The HVAC technicians at Christian will help you make the right decision for your needs by explaining the pros and cons of each type of air conditioner.
Christian Guarantees All AC Installations
Because your new air conditioner is one of the largest investments you will make in your property and it is one of the most used pieces of equipment, it's a good idea to protect it. At Christian, all new air conditioning systems that we install come with up to 10 years of a parts and labor warranty. We also provide you with 1 free year of our Family Plan for added peace of mind. To make sure you get the most life out of your system, routine maintenance is important. By checking for small problems regularly, you can prevent costly, unexpected repairs down the road.
Affordable Air Conditioning Systems
Whether your air conditioner has finally bit the dust or you're planning to upgrade your current air conditioning system, Christian is here to provide affordable inverter AC system installation services. Our dedication to our customers is second to none and we even offer convenient financing options.
Choose Christian for Your Energy Efficient Inverter AC System
The best way to efficiently cool your home or business is to have Christian install a Daikin variable-speed inverter air conditioning system. Your new air conditioner will provide optimal comfort all day, every day while keeping your energy costs down. Our team of professional HVAC technicians is standing by. Contact Christian today for a free quote on your new air conditioning system.