Tank & Tankless Water Heater Services
Your water heater is usually out of sight, so you probably don't often consider its age and condition. But as soon as you lose access to hot water, the need for water heater repair is at the forefront of your mind. Avoid a situation where your home lacks hot water by relying on Christian Heating and Air Conditioning for water heater installation, repair, and regular maintenance.
Comprehensive Water Heater Care
From beginning to end, we strive to provide any water heater service you need, including the following:
Annual inspections
Regular tune-up maintenance packages
Water heater service and repairs
New water heater installations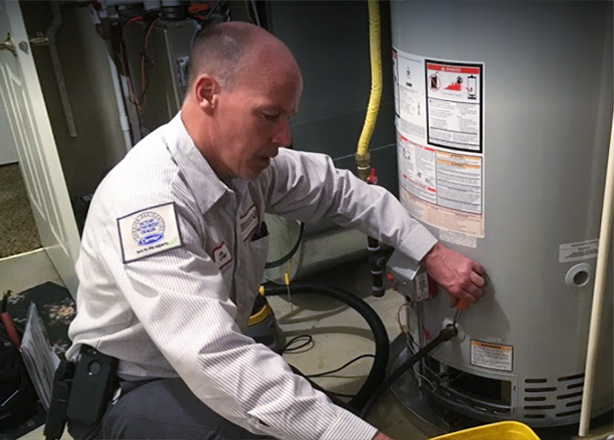 Common Reasons for Water Heater Repair or Replacement
Water heaters usually last between 10 to 12 years before a replacement is needed. Some signs are easy to detect, like sudden changes in water temperature; however, other signs, like mineral build-up or internal corrosion, are harder to detect. Some other signs are:
Muddy or rusty water
Increased sediment in the water tank
Odd sounds
Leaks
Our trusted technicians have the skills and experience to diagnose issues promptly. We'll help you decide whether a small repair or full replacement works best for your home and family. Rely on us for honest advice and experienced service.
An Experienced Family Company
Since 1989, Christian Heating and Air Conditioning have served countless residents in Pennsylvania with honest hard work. We care about helping you create a comfortable home, and we show it through our various HVAC services.
Over the years, we've worked hard to increase our industry knowledge. As soon as you call us, you'll feel the difference that the Christian family atmosphere makes. We began with a focus to serve others, and we haven't lost that vision. Over the years, we have worked hard to increase our industry knowledge, train our technicians, and provide trustworthy service to our customers.
Let us prove how much we care by bringing home comfort to your home with quality products and reliable service. Contact us at 1-215-488-5795 for water heater replacement or boiler repair in Southampton, Abington, Doylestown, and surrounding areas.