Trust Christian for Your Water Heater Needs
A water heater can be easy to take for granted when it is working well, but it is integral to our daily lives. You rely on it for hot showers, cleaning your dishes, washing your clothes and so much more. When your water heater fails, your quality of life is seriously diminished, and replacing it becomes one of your top priorities. Water heater failure also brings with it the risk of a leak, which can result in significant water damage. The good news is that Christian Heating & Air Conditioning is here to help and has been since 1989. Our team will help you choose the ideal water heater for your home and perform professional water heater installation services quickly, precisely to provide you with peace of mind you can count on for years to come.
Hot Water When You Need It
Hot water is an invaluable aspect of your home life, and Christian is proud to offer not only the best water heaters on the market but amazing customer service and care. If you ever experience a problem with your hot water heater, we will dispatch our certified plumbers to your home to diagnose the problem, explore your options with you, and implement a solution in an affordable and timely way. If your system is beyond repair, you can count on us for expert water heater installation services as well.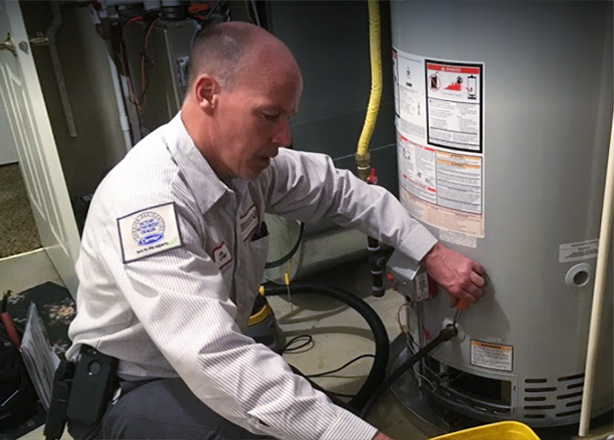 Water Heater Installation & Replacement
The experts at Christian recommend after 10 years you begin to consider a replacement water heater. This is the point at which water heaters become inefficient and thus cost more each month. You have already gotten excellent value out of the old unit, which is now running the risk of a leak that could cause serious water damage to your home. Our company specializes in water heater installation and replacement services. We sell the best models from the top brands and emphasize energy-efficient solutions that will lower your monthly bill and maximize your investment. Our team is also here to help you make the ideal choice based on your budget and the needs of your household.
On-Demand Water Heater Repair
A new water heater is not the only option. If your unit is not yet 10 years old, then a repair often does make the most sense long term. Our licensed plumbers have all the tools and other resources needed to diagnose the problem and make the necessary water heater repair during a single visit. We perform precise and comprehensive repairs that will last and extend the life of your equipment. We work on a variety of water heaters, including those that run on natural gas, propane and electric.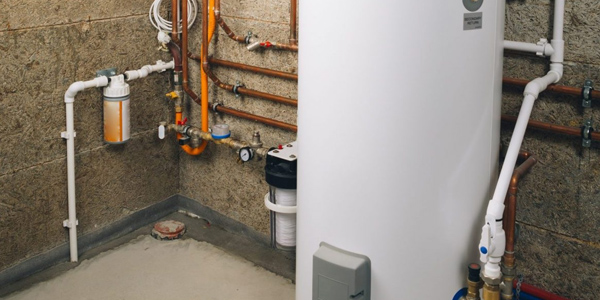 Types of Water Heaters We Service
Conventional water heaters with large storage tanks are familiar to most homeowners, and we service all of these regardless of age, brand, model, and fuel source. High-efficiency models are now more readily available. If you are ready to make the switch to an on-demand system, we can help you choose the appropriate size and features. The team at Christian also services heat pump water heaters, and that includes standalone models and units integrated into your home's HVAC system.
Traditional water heaters heat water and store it in a tank. Any time you draw hot water from your system, it is replenished with cold water, and a thermostat adjusts the tank temperature accordingly.
Tankless water heaters do not have a tank but instead heat the water on demand. These systems are more energy efficient, have a smaller footprint, last longer, and offer practically endless hot water.
This approach is highly energy efficient and cost-effective, and while standalone units are an option, they are often integrated into your home's heating and cooling system.
When Should I Replace My Water Heater?
Well-maintained water heaters last anywhere from six to 12 years, and 10 years is generally considered the point at which you have gotten good value and should start thinking about a new water heater installation. While a hot water heater absolutely can last longer that that, it becomes inefficient and thus costs more each month. It also becomes more prone to a leak that can lead to serious damage. Leaks can be rather small, so light pooling is a reason to call Christian as soon as possible. You should also watch for rising energy costs, discolored hot water and any strange noises or smells.
Water Heater Issues
Over 10 Years Old
Leaks
Cold Water
Strange Sounds
Rust Colored Water
Water heaters are constantly working to provide adequate hot water for bathing, laundry, cooking, and more. Over time, important parts break down. With regular maintenance, you can help keep them running for upwards of 15 years or longer. Removing sediment and checking electrical connections and heating elements is important for the longevity of your water heater.
Contact Us Today by filling out the form below, or calling us at 1-215-488-5795
"*" indicates required fields
Choose Christian When You Need Water Heater Installation or Repair
Christian is a trusted and respected name when it comes to water heaters in the Greater Philadelphia area. You can depend on us for expert water heater maintenance and repair and, when the time comes, professional water heater installation services. When you choose us, you can expect a professional staff that delivers impeccable workmanship and complete customer satisfaction. If you have any questions or would like to set up an appointment, contact us online or call us at 1-215-488-5795.