Get the Plumbing Help You Need
Plumbing is an essential part of any home or building, and when something goes wrong, it can be a major inconvenience. Whether it's a leaky faucet or a clogged drain, it's important to choose the right plumbing repair company to fix the problem.
Expert Plumbing Repair Services
At Christian, our team of expert plumbers offers a wide range of plumbing repair services to keep your home or building running smoothly. From fixing leaks and unclogging drains, to installing and maintaining water heaters and sump pumps, our team is equipped to handle any issue that may arise. We understand that plumbing problems can cause major inconvenience and that is why we provide fast and efficient service to get your home or building back in working order. We also provide services like appliance hookup, gas lines and water lines installation and repair. Our plumbers are licensed and insured, and use the latest tools and techniques to ensure the highest quality of work. Trust our team of experts at Christian for all of your plumbing repair needs.
Your plumbing fixtures and faucets are often a source of leaks. These leaks cost you money and can cause potential water damage. Whether you need a kitchen or bath faucet repaired or replaced, call on the expert plumbers at Christian for fast service. Our plumbers can quickly diagnose the problem and provide a solution that ensures that your fixtures and faucets are working properly and minimizing the risk of water damage.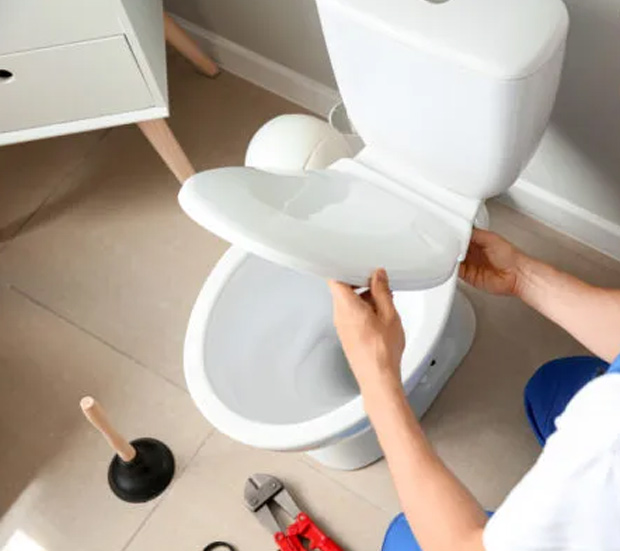 Toilets can develop a number of issues that call for quick repair or replacement. Clogs, leaks, water that never stops running, and odd noises are a few of them. While regular wear and tear can cause toilet components to degrade, using particular cleaning chemicals too frequently might have negative effects. A skilled plumber can diagnose and fix these issues to keep your toilet running smoothly.
A simple reset, which you can perform on your own, will sometimes fix your garbage disposal. Other times, a skilled plumber's eye is needed to diagnose garbage disposal problems. One of the plumbing services we provide is garbage disposal repair and replacement. Trust our experts to keep your garbage disposal running efficiently.
Water Lines
The walls and floors of your home are filled with an intricate system of water pipes. When a leak or other issue occurs, it's important to locate and repair the issue immediately. We can also help you run new water lines to unserved areas of your home. Trust our experts to locate and repair any water line issues to keep your home running smoothly.
Sump Pumps
If your basement frequently floods, a sump pump may be used to divert the water away from your home. Even little flooding might cause significant damage to your basement and foundation. To keep your basement dry, Christian can install or service your sump pump. Trust our plumbers to keep your basement dry with sump pump repair or replacement.
Water Heaters
Living without a reliable water heater is stressful. Water heaters sometimes don't provide hot enough water, but they also can leak or have odd odors. To ensure that you have hot water throughout your house, we can repair or replace your water heater. Trust our experts to keep your water heater running efficiently.
Contact Christian for Your Plumbing Repair Needs
When it comes to plumbing repair, it's important to choose a company that you can trust. At Christian, we have a team of expert plumbers that are dedicated to providing top-quality service at a fair price. We understand the importance of quick and efficient service, which is why we make sure to get the job done right the first time. We have the knowledge and experience to handle just about any issue that may arise. So, whether you're dealing with a minor issue or a major emergency, don't hesitate to contact Christian for all of your plumbing repair needs.