Professional Toilet Repair Services
If you own a home in Bucks or Montgomery County and need toilet repair, turn to the team at Christian. Since 1989, our plumbers have served area homeowners with a full range of toilet replacement and repair services. Whether you have a clogged toilet or a toilet that doesn't flush correctly, Christian will perform an affordable, fast, and reliable fix that gets your toilet working again.
Why You Should Choose Christian
Christian is a locally owned and operated plumbing company in Southampton, PA that has served this region for more than 30 years. We are a fully licensed and insured company, and our certified plumbers are highly trained and experienced. You can count on us for expert toilet repair at competitive prices, and we pride ourselves not only on superior workmanship but excellent customer service and care.
Signs You Need Toilet Repair
Some toilet problems are obvious and in immediate need of professional attention. Those include a clogged toilet, sluggish flushing, a toilet that won't stop running, and an overflowing toilet. If you experience any of those issues, disable the water supply via the shut-off valve and then call Christian right away. You should also call us if you notice a crack in either the tank or the bowl. Even a hairline crack below the waterline can develop into a serious leak that causes damage beyond the toilet bowl itself. Homeowners should also pay attention to less obvious indications that they need toilet repair. Those can include frequent clogging even if you're able to deal with the clogs yourself as it indicates a blockage that could become more serious. Other signs of blockage include suction and gurgling noises. You should also call us if you're experiencing leaks no matter how minor they are, if you notice any rust inside the tank or on any parts connected to the toilet, or if you're experiencing faulty flushing. That can include a weak flush or having to flush multiple times in order to get rid of wastewater.
Hire a Professional Plumber
It can be tempting to do it yourself when you experience toilet problems, but hiring a professional plumber will usually save you money and time in the end. The plumbers at Christian have a great deal of experience and are able to diagnose toilet troubles quickly, thoroughly, and accurately. Our work trucks are outfitted with the most advanced plumbing equipment available and with the exact high-quality parts needed to carry out toilet repair in a manner that will give you peace of mind in the years ahead. We stand behind our work and provide a 100% satisfaction guarantee with all of our repair services.
The Benefits of Professional Toilet Repair
Most toilet-related issues are relatively simple, quick, and affordable to fix if you schedule toilet repair as soon as you notice a problem. The dilemma with putting it off is that most toilet troubles worsen with time and become more time-consuming and expensive to correct. It's more affordable to deal with a toilet problem on your schedule as opposed to dealing with a plumbing emergency. Timely toilet repairs lower the risk of flooding in your home, and a malfunctioning toilet can increase your water consumption by thousands of gallons a day, and that cost can really add up over time.
Toilet Replacement Services
There are scenarios in which toilet repair isn't possible as is often the case with cracks below the waterline. In that event, we can replace your toilet for you. Christian offers a wide range of modern and attractive toilets and bidets for you to choose from. If you need any assistance in selecting a toilet that's ideal for your home and budget, we're happy to provide it. Once you've made your choice, our expert plumber will remove your old toilet and install the new one in a manner that exceeds local building codes and manufacturer requirements. Christian will also ensure that your old toilet is disposed of appropriately.
Our Plumbing Maintenance Plan
Christian offers a plumbing maintenance plan that is an excellent way to protect your home and avoid the need for toilet repair. Membership is offered on an annual basis and includes one year of preventative maintenance for your plumbing system. We'll have one of our expert plumbers perform a comprehensive inspection of your plumbing system, carry out any routine maintenance, such as replacing plumbing tape and tightening connections, and provide you with a status report. Through this approach, we're able to identify and correct most plumbing issues before they develop into serious problems that are expensive to repair and can cause damage to the home.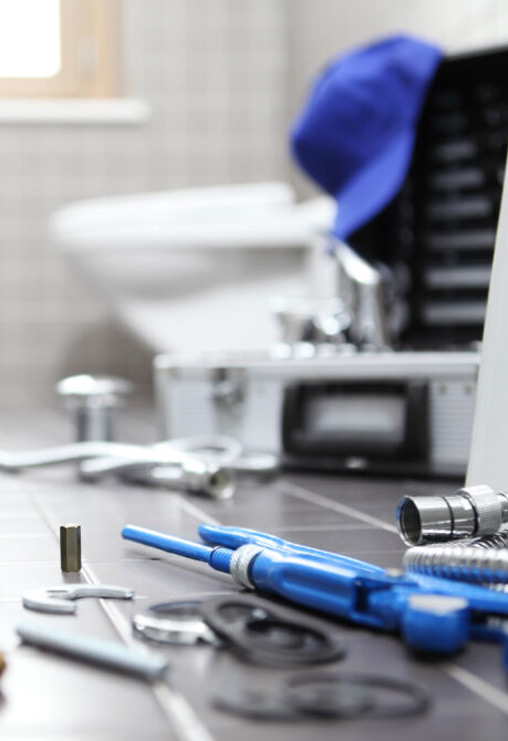 Choose Christian for Toilet Repair
Hire Christian with the confidence that we're going to deliver affordable and reliable toilet repair services. Call today at 1-215-488-5795 or contact us online to schedule an appointment or with any questions about our services or the difficulties that you're experiencing with your toilet.
Contact Us Today by filling out the form below, or calling us at 1-215-488-5795
"*" indicates required fields