Install a New Energy-Efficient Furnace
Christian has earned a well-regarded reputation as a dependable and trustworthy furnace replacement company in Southeastern PA. We take pride in our commitment to honesty, exceptional customer service, utilization of high-quality materials and components, and the expert craftsmanship we apply to every project. This is why homeowners consistently turn to us for all their furnace requirements.
When Is Furnace Replacement Necessary?
If your furnace ceases to generate warm air or experiences a complete airflow stoppage, it's a clear signal for repair. However, these issues may also indicate the need for a replacement. Warning signs of a failing furnace include inconsistent indoor temperatures, an unusual need to set the thermostat higher than usual, extended or shortened heating cycles, and the presence of unexpected noises or odors. A sudden spike in your electricity bills or an accumulation of dust could be indicative of an underlying problem. If you have a fuel-fired furnace, regularly inspect the pilot light. If it deviates from a bright blue flame with a yellow tip, it's crucial to contact our furnace replacement company without delay.
Contact Us Today by filling out the form below, or calling us at 1-215-488-5795
"*" indicates required fields
Ensure Optimal Furnace Performance
Christian advises homeowners to schedule a furnace inspection, cleaning, and tune-up in the fall to prepare for the heating season. Our preventative maintenance service reduces the risk of unexpected breakdowns, ensures peak efficiency, lowers monthly utility expenses, and extends the lifespan of your furnace, ultimately reducing the overall cost of ownership. During a maintenance appointment, our technicians conduct a thorough inspection, clean the system, examine all electrical and fuel-related components, change the HVAC filter, test safety controls, and measure gas, airflow, and static pressure.
Other Heating Systems that We Replace
While furnaces remain the most popular choice for home heating, we provide tailored installations for various systems to meet your needs. We also work with heat pumps, radiant heat boilers, and ductless mini splits so regardless of your heater type, we can keep you comfortable.
Heat Pumps
Heat pumps are highly efficient HVAC solutions that can provide both heating and cooling for homes, even in very cold temperatures. They can also be combined with an auxiliary furnace for supplemental heating.
Ductless Mini Splits
Ductless mini-splits, a type of heat pump system, eliminate the need for ductwork by directly distributing conditioned air into living spaces. They are ideal for homes without ductwork and for zoned HVAC systems.
Radiant heat boilers, which include hot water and steam boilers, offer an alternative to traditional furnaces as they do not blow air, thus maintaining indoor air quality. These systems commonly use wall and baseboard radiators, with radiant floor heating becoming increasingly popular.
Your Local Furnace Replacement Company
Christian distinguishes itself among the many companies offering furnace replacement services in the region. Our core values, including integrity, dedication, excellence, teamwork, innovation, and knowledge, guide our operations. Our NATE-certified repair technicians receive ongoing training to stay current with industry advancements. We exclusively use top-tier systems and materials, ensuring precise installations. The benefits of new furnaces include improved energy efficiency, enhanced safety, and reduced energy costs.
On-Demand Furnace Repair
We recognize that furnace problems cannot wait, and our furnace repair company has technicians on call to provide immediate assistance. Call 1-215-488-5795 at any time, day or night, including weekends and holidays, and we will promptly assess your furnace issues and restore your heating.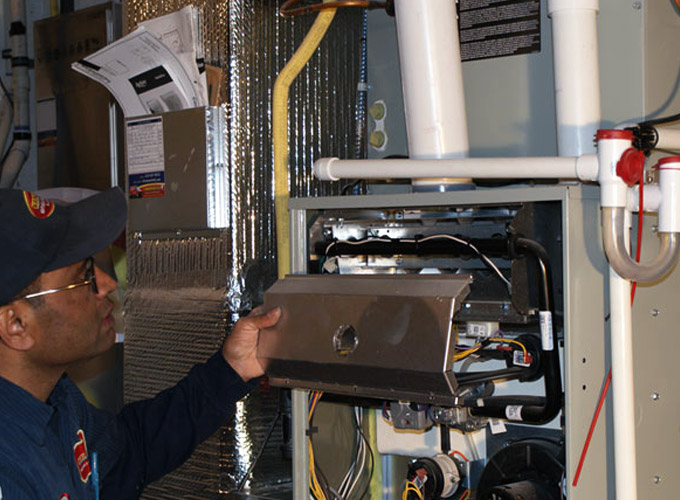 Choose Christian for Your Furnace Replacement
We offer a wide array of furnace services, including maintenance, replacements, repairs, thermostat upgrades, and more. Our commitment is to provide our clients with the highest level of service, surpassing their expectations. If you have questions or wish to schedule an appointment for a new furnace, please do not hesitate to reach out to us at 1-215-488-5795 or contact us online today. We are here to ensure your year-round comfort.