Fast & Affordable Air Conditioning Services
If your air conditioner is beyond repair or you are interested in upgrading to a more energy-efficient unit, the HVAC pros at Christian are here to help. We offer reliable air conditioning replacement and installation services so that you can achieve the indoor comfort you desire. When it's time to replace your air conditioner, our HVAC technicians will work with you to determine your needs so that you get the appropriate system for your home or business. We offer a 12 year parts and labor warranty for select air conditioning systems.
Common Reasons to Replace Your Air Conditioner
When your air conditioner no longer pumps out cold air, there could be several reasons why. Most commonly, home and business owners opt for air conditioning replacement because their current system is broken beyond repair. This failure often comes as a result of the age of the system, lack of maintenance, or misuse. Regardless of why you need to replace your air conditioner, the HVAC technicians at Christian Heating & Air Conditioning are available 24/7 to restore your indoor comfort.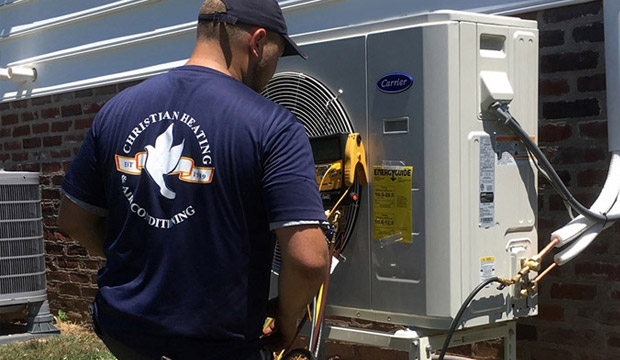 Age of Unit
Air conditioners can usually last up to 15 years. However, once they are a decade old, they can become less efficient. It's important to perform regular maintenance to extend the life of your system. You may face expensive repairs that make replacement a better investment.
Energy Efficiency
If your AC has a SEER rating below 13, it is costing you more money to operate it. Modern air conditioners must have a SEER rating of at least 13 and go as high as 25 while using less energy to cool your property. Clean filters also directly impact your system's ability to run efficiently.
Using R-22 (Freon)
R-22 Refrigerant has been phased out by the federal government to reduce the ozone-depleting effects of the refrigerant. R-22 is becoming more and more expensive and ultimately will no longer be available soon. You will have to replace your air conditioner with a unit that uses R410A refrigerant.
Rising Energy Bills
If you notice an unusual rise in your energy bills, your system will need to be repaired at a minimum but ultimately, it's usually a sign that your unit should be replaced. Our team can inspect your system and determine the best course of action to keep your monthly costs down.
Frequency of Repairs
Air conditioning repair costs add up quickly, so if you incur hefty repair costs, consider upgrading your AC unit. Constantly trying to play catchup will ultimately cost you more money and stress in the long run. We can help you find a new system that will last for years to come.
Types of Air Conditioners We Install
There are a few common air conditioning systems used in the Philadelphia area. Older homes and buildings typically do not have ductwork and often rely on ductless systems to provide consistent cooling. If ductwork is present or can be installed, central air conditioning and heat pumps can be used. Regardless of your current setup, Christian can provide dependable air conditioner replacement services.
Central Air Systems
Utilizing ductwork to distribute cool air throughout your home or business, central air systems are very common here in Pennsylvania. We actually specialize in central air conditioning system replacement.
Ductless Mini Split Systems
Commonly used to retrofit older homes and buildings, ductless mini split systems are an incredibly efficient way to provide indoor comfort. They can save you space and money on your energy bills.
Heat Pump Systems
Like central air, heat pumps use ductwork to distribute cold air. They are popular systems to install because they can provide efficiently distributed cold air in the summer and heat in the winter.
We Make AC Replacement Affordable
Replacing your air conditioner is one of the largest investments you can make in your property. Whatever your financial situation, your family shouldn't have to go without AC this summer. We have many affordable financing options. We will work with you to get you approved to complete your home's air conditioner replacement as soon as possible.
Preserve Your Investment with Routine Maintenance
Every new air conditioner installed by Christian comes with one year of our Family Plan for free. This service comes with an annual inspection and cleaning of your air conditioner to ensure it operates at peak performance. You can extend this annual service and even sign up for the Family Plan with your current system, regardless of who installed it.
Choose Christian for Your Air Conditioner Replacement
When it is time to replace your air conditioner, trust the HVAC technicians that have been setting the highest standards in the industry since 1989. Call Christian Heating & Air Conditioning today at 1-215-488-5795 or schedule a consultation to get started with choosing your air conditioning replacement system.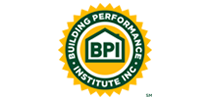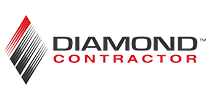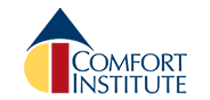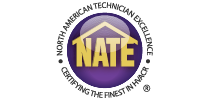 Contact Us Today by filling out the form below, or calling us at 1-215-488-5795
"*" indicates required fields