Let the experts at Christian Heating & Air Conditioning professionally install your new heating system. Our technicians are specifically trained to install Carrier furnaces properly and efficiently the first time. We make heater installation easy by carefully assessing your home and determine the correct type of furnace for your needs.
Installing a new furnace is no easy task and requires professionals to do it right. Our trained professionals have the skills, knowledge, and equipment to do the job, ensuring their work will not void the manufacturer's warranty. This will help you avoid the headache of having to re-install your heating system in the near future.
Call us today to learn about our heating services:
Central furnace installation
Heat pump installation
Ductless system installation
Ductwork installation
Boiler and radiant heating installation
Programmable thermostat installation
Energy-efficient equipment upgrades
Christian Heating & Air Conditioning provides fast and friendly heater installation for Bucks County, Montgomery County, and Northeast Philadelphia. Call us today to schedule your furnace installation and to stay warm this winter.
Maintenance & Warranty
With any new unit purchased, Christian Heating & Air Conditioning provides you with a Free Advantage Plan. With your Free Plan, we've got your maintenance covered for the 1st year!
Accessories Included with Every Installation
Protecting your property and investment is one of our top priorities so we include the following:
E-Z Trap
A trap for the condensate drain and shuts off the unit if water is detected. The trap is clear and easy to clean and inspect.
Wet Switch
Prevents flooding & turns system off when detecting moisture due to condensation or drain leaks.
Aprilaire Air Purifier
A whole-home air purifier that keeps every room in your home clean and comfortable. It has a MERV 11 rating.
Sheet Metal Pan
Installed under each unit to protect your property by capturing condensation and moisture.
Why We're Different
Christian Heating and Air Conditioning sets the standard with initial visits, presentation, job prepreation, install, and follow up.
Choices
We offer you a full array of equipment and financing to suite your family's needs and budget.
Heat Load Calculation
We perform a complete heat load calculation to ensure that your replacement system meets your homes heat load to ensure maximum comfort
Sheet Metal Shop
We have a fully operational sheet metal shop to make customer pieces for each installation. All our metal is made to order, with our salesman and fabricator collaborating
Highest Quality
Our installers set the highest standard with precision equipment and expert installation.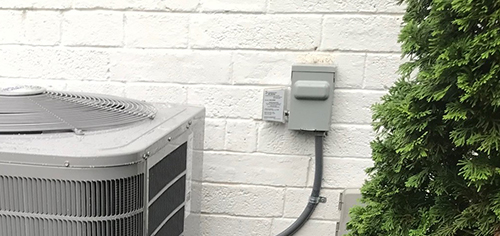 Surge Protector
We protect every system with a surge protector. With the many storms in our area, Dave Peppelman decided to include an Intermatic Surge Protector Device on all outdoor systems. Intermatic provides up to a $7,500 reimbursement to a homeowner for damage to your HVAC system beyond your homeowner's insurance.