We Repair Gas, Electric, Propane & Oil Furnaces
A properly functioning furnace is important for your indoor comfort. At Christian, we are experienced working with furnaces of all shapes and sizes, regardless of fuel source. Whether your home or business uses natural gas, propane, oil, or electricity to power your furnace, we have the tools and expertise needed to keep it running in top-top shape. While some furnace repair services are easier than others, you can rest assured that Christian will have your Levittown, PA property warm again in no time.
If your furnace isn't working well enough, or at all, don't hesitate to give us a call at 1-215-488-5795 and we can dispatch a friendly HVAC technician to diagnose and repair your problem. We have been providing reliable heating repair services to homes and businesses in Levittown, PA for over 30 years.
Emergency Furnace Repair in Levittown, PA
When your furnace stops working during the cold winter, you can be left scrambling to stay warm. Thankfully the residential and commercial furnace repair technicians at Christian are available 24/7 to repair your heater. Whether it's a holiday or the middle of the night, we're here for you and we never charge any overtime fees. Don't leave your family, employees, tenants, or customers in the cold. Choose Christian for fast and affordable emergency furnace repair services.
Reasons for Furnace Repair
Furnaces rely on several important parts. The burner, heat exchanger, blower, air ducts, and thermostat are all susceptible to failure, so it's important to be on the lookout for common issues so that you can catch a problem before it gets worse.
Dirty Air Filters
Dirty or clogged air filters reduce airflow, making a furnace work harder to circulate. In some cases, a clogged filter may damage the switch that controls the fan.
Old Age / Wear & Tear
Normal wear and tear can cause airflow problems, heat control-related problems, or even overheating.
No Heat
A furnace that doesn't perform its main task may have problems with the thermostat setting, power, gas, or the pilot light.
Not Hot Enough
In addition to a clogged filter, a furnace may not produce enough heat if it's the wrong size for the space.
Thermostat Problems
A faulty thermostat can lead to problems with the fan, causing uncomfortable temperature levels.
Lack of Maintenance
Annual furnace maintenance and inspections prevent unexpected problems and breakdowns. This routine service can help your furnace run more efficiently.
Frequent Cycling
Cycling between the "On" and "Off" modes may indicate a clogged filter, improper airflow, or a bad thermostat setting.
Hearing Odd Noises
Rumbling, squeaking, and rattles aren't normal. The sounds may indicate a mechanical problem, airflow reductions, or a clogged burner.
Ignition or Pilot Light Problems
A faulty ignition or pilot light caused by drafts, or clogs in the appliance could make it difficult to heat a home or commercial space.
Blower Always Running
Blower issues may indicate a problem with the limit switch, which a professional may need to replace.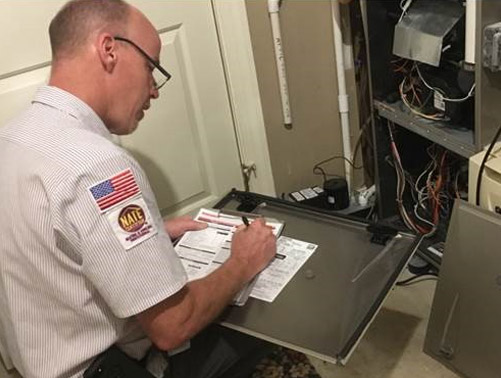 Furnace Maintenance Helps Avoid Costly Heating Repairs
The best way to avoid potentially costly furnace repair is to perform regular heater maintenance on your system. From simple things like changing your air filters 3-4 times a year to making sure your mechanical parts are well lubricated and free from dirt and obstructions, Christian can keep your furnace running smoothly. If it has been some time since your furnace was serviced, schedule a furnace tune-up today or enroll in our annual Advantage Plan to keep your system ready.
Other Heaters We Repair
If your home or commercial property doesn't have a furnace, don't worry, Christian still has you covered. Our technicians are trained to work on all types of heating systems such as heat pumps, boilers, and ductless mini-splits. No matter how you heat your property, we're available to perform any necessary repairs so that your system can run efficiently again.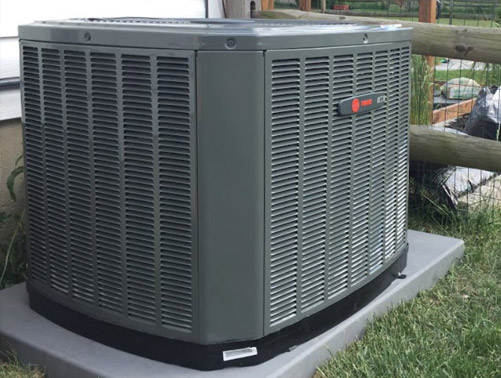 Heat Pumps
Highly energy-efficient, heat pumps provide heat and air conditioning for your property. If you experienced any issues during the summer, you could be facing potential problems this winter.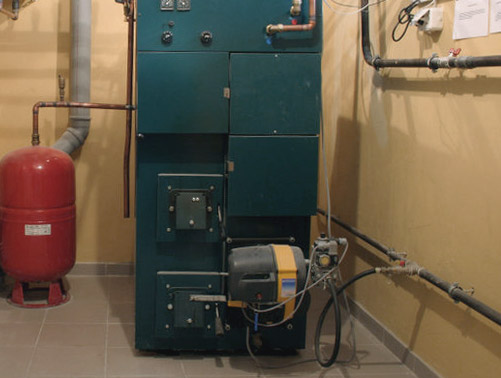 Boilers
Hydronic heating systems rely on the distribution of hot water throughout your property to generate radiant heat. If your boiler isn't working you run the risk of freezing pipes and other issues.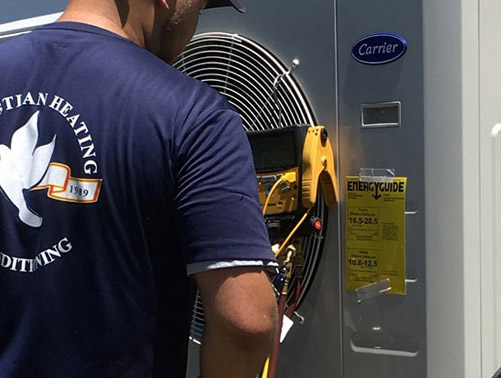 Ductless Mini Splits
Ductless mini split systems are compact heat pumps that are often used for supplemental heating for underserved properties. If you have a ductless system, you still need to make sure it's well maintained.
Contact Christian Today for Levittown, PA Furnace Repair
Get your gas, oil, propane, or electric furnace back up and running efficiently with expert furnace repair services from Christian. We treat our Levittown, PA customers like part of our family and will do everything we can to keep you warm this winter and for years to come. Our licensed and trained HVAC technicians are available 24/7/365 for all of your heating needs. Give us a call at 1-215-488-5795 or schedule your service today.